W.A. plans Australia's biggest solar+storage micro-grid in Onslow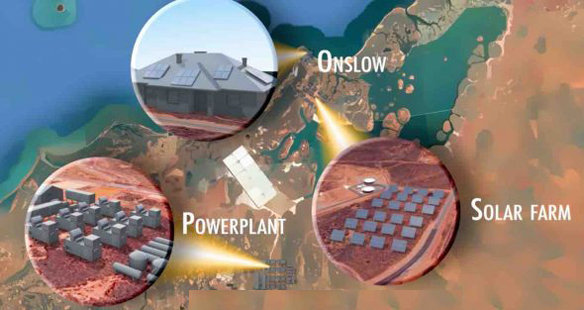 Western Australia's regional utility Horizon Power has launched a project to deliver what it claims will be Australia's largest solar and storage-based microgrid once complete in early 2018.
The project, to be developed in the northwest town of Onslow, will bring together a new 5.25 MW gas-fired power plant, with a mix of distributed and utility-scale solar, to be coupled with battery storage.
"This will be Australia's largest distributed energy microgrid, creating a new era of energy competition and efficiency for households and businesses," said WA Energy Minister and Treasurer Mike Nahan, in a statement announcing the project.
The project will see Onslow, a town used as a launching base for the massive Wheatstone LNG project owned by Chevron, powered 50 per cent by renewable energy by early 2018.
But Nahan said it was likely that would grow to around 70 per cent renewable energy, which is about the mark being reached, or planned to reach, in smaller projects in King Island, Tasmania, and Coober Pedy in South Australia.
Horizon Power says it will be one of the most advanced micro-grid projects in the Asia region, and will include the ability for consumers to trade power with each other within the micro-grid. It has an interesting video on the project here.
Interestingly, it notes that the current dependence on gas has raised some "reliability" issues, but the new micro-grid will lower costs to consumers, and remove much of the large state subsidies that have traditionally supported fossil fuel power in the state's north west.
The announcement also comes just as attention turns to micro-grids as a possible alternative to Australia's vast network infrastructure, which leaves it vulnerable to storm and bushfire damage, as WA has found in the past and out Australia found last week in a massive blackout.
WA's main grid operator has already flagged a new model that includes micro-grids, and cities such as New York adopted the same model after being battered by Hurricane Sandy and suffering major blackouts.
Horizon Power has begun issuing tenders for the gas power station, new sub-station, and new transmission infrastructure. The PV power plant, distributed solar and battery component of the system are expected to be deployed in a second phase, which Horizon says is currently under development.
Nahan, a former head of the IPA, has undergone a dramatic transformation in recent years, from being sceptical of renewable energy's future, to ardent advocate in the face of falling costs.
The Onslow project, if realized, indicates the extent to which the regional utility Horizon Power is rethinking the role renewables and storage can play in supplying regional and remote towns with electricity at rates cheaper than traditional fossil fuel sources.
The WA State Government will stump up $70 million for the Onslow microgrid project, with the Chevron Wheatstone project also providing an undisclosed financial contribution, under the terms of its agreement with the WA government.
Chevron has committed to investing $250 million in, "social and critical infrastructure projects in Onslow including health, recreation and utilities."
The Wheatstone project is tapping vast natural gas reserves in the region and will involve developing two liquefied natural gas (LNG) 'trains' to export the product to overseas markets. Wheatstone is 12km away from Onslow. The gas wells are complete and the second of two export 'trains' is currently being constructed.
While the liquefaction of the gas itself will not be powered by renewables, the growing town of Onslow has increased electricity demand that Horizon Power has met, to date, with temporary gas-fired generation solutions.
It is hoped the microgrid, including a modular gas generating plant that can be efficiently ramped according to the solar production.
"The State Government, Horizon Power and Chevron agree the redesign of the gas-fired modular power station is the best way to integrate with the latest renewable energy technology and ensure a more sustainable energy supply," said State Development Minister Bill Marmion on announcing the new microgrid.
The gas supply infrastructure to supply the new flexible turbines have been completed. The details of the solar and storage component to the project has not yet been disclosed.